Great news for the Charouz team: Delétraz finished second in the F2 race in Austria!
---
06 July 2020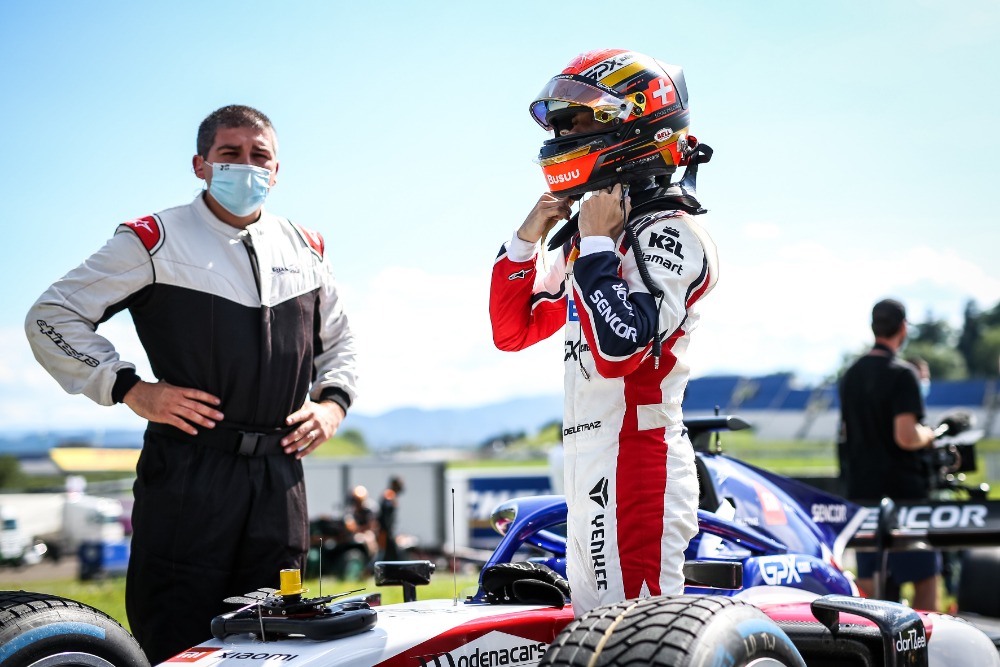 "It was a good weekend for me, Seventh and second place is good in terms of points."
---
Louis Delétraz
After a long break caused by the coronavirus pandemic, the season of the FIA Formula 2 Championship finally began in the Austrian Red Bull Ring. It was the Swiss driver who got to the podium before his teammate Piquet. Delétraz finished the sprint race in second position!
The Charouz Racing System drivers delivered a solid performance in
Saturday's main race. Louis Delétraz finished in a nice 7th position,
receiving precious points. With a little more luck and not losing important
seconds during the mandatory pit, he could have done even better. His
teammate Pedro Piqet was not far from the points, but the debutant in the
F2 championship had to settle for the 13th place.
On Sunday, the order of the top eight was reversed, so Delétraz started
from the front row. The Swiss managed to start and keep the second
place pretty well. The race was tough, however, because of Alesi's car
incident, the safety car entered the track reducing the distance between
each driver massively. The same thing happened again in the ninth lap
when Armstrong started to reach Delétraz. Then another safety car had to
step in after more technical issues. In the front positions, nonetheless, he
rest of the race was pretty calm. Drugovich easily finished first, but
Delétraz appeared right behind him at the finish line! Great show for the
opening weekend of the F2 championship for Charouz Racing System.
Charouz's second driver, Pedro Piquet held "his" thirteenth position from
the start for a long time. In the second half of the race he started fighitng
his way up and was in the top ten right before the finish. In the end, it was
not enough and he finished 13th. He left a good impression behind at the
Red Bull Ring, however. There is a real chance that he will keep
improving with every race.
The next Grand Prix of Styria will take place the 10.-12. July, again in
Spielberg.
Antonín Charouz, the owner of the team said: "Louis has proven that
he has not only great talent, but a lot of experience in F2. We are
extremely satisfied with what he has accomplished at the Red Bull Ring.
We also see the performances of Pedro positively, he definitely has great
potential. We are all looking forward to the next Austrian races."
Bob Vavřík, the team manager, said: "We were not really successful in
qualifications. We know that we can do better and have what it takes. It's
just not always easy to drive in the traffic on a such a track. A yellow flag
came out on our second attempt and there was nothing we could do. In
short, it is always a risk. Despite our position after the qualifications, the
first race turned out quite well. Pedro is adapting quickly, it was his first
weekend. Louis drove well, it was not a bad sprint for him. He had to
deal with a restart three times, which is never easy. The car is
competitive, which is a great base to build on."
Louis Delétraz said: "It was a good weekend for me. Seventh and
second place is good in terms of points. Drugovich drove really fast
today, there wasn't much chance of getting in front of him. I'm looking
forward to more races on the same circuit, I'll try to get at least the same
number of points."
Pedro Piquet explained: "I think I had a good pace during qualifying on
Friday. Unfortunately, I could not ride any car with the new tires. I had to
get used to the car during the first race, the second was much better. We
lacked speed to fight more among the first positions but hopefully it will
be better next week. In order to finish in the elite eight, I need to get more
out of myself and out of the car."
Foto: Dutch Photo Agency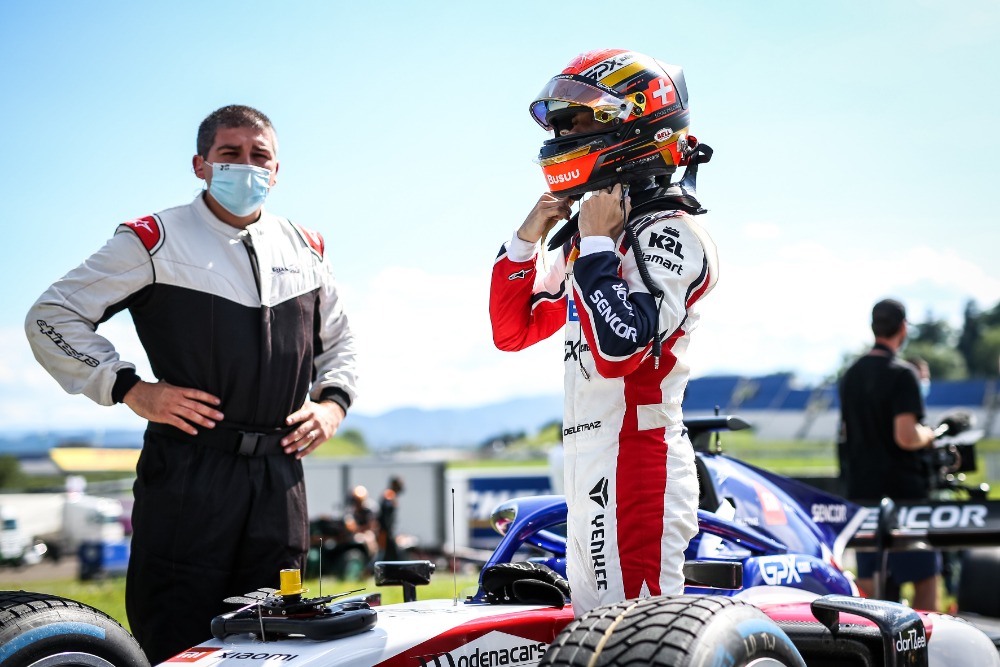 "It was a good weekend for me, Seventh and second place is good in terms of points."
---
Louis Delétraz