Sauber Junior Team race to a quartet of F4 podiums in Austria
---
09 June 2019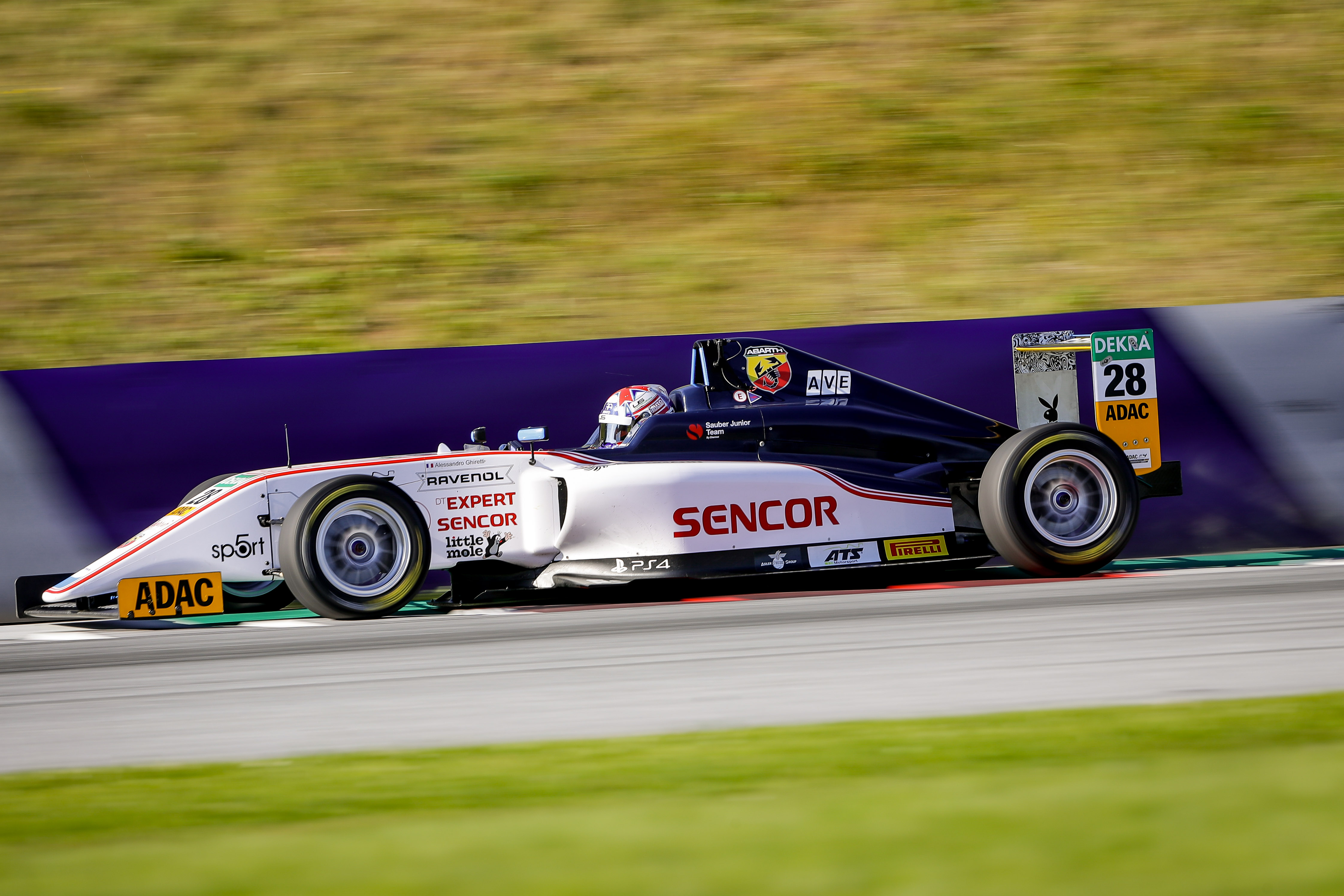 " I had the speed, and it felt like a big comeback to pass 18 cars in Race Three!"
---
Alessandro Ghiretti
The drivers in the Sauber Junior Team's ADAC F4 programme continued their impressive start to the 2019 season by claiming one win and a further three podiums at Austria's Spielberg circuit this weekend.
The second round of the series gave the driver quartet, who are racing as part of a collaboration between Sauber Motorsport, Charouz Racing System and US Racing, their first taste of F4 competition on a current Formula 1 track.
Running under the 'Sauber Junior Team by US Racing – CHRS' banner, Alessandro Ghiretti, Arthur Leclerc, Théo Pourchaire and Roman Staněk each claimed valuable points across the weekend's three races on the challenging 4.32km track.
An interrupted qualifying session meant the drivers weren't able to set their best lap times, but Frenchman Ghiretti and Oschersleben winner Staněk were still able to qualify second and third for the opening race on Saturday.
Ghiretti held on to his P2 position until the chequered flag, while Staněk slipped back into a thrilling race-long battle for sixth with team-mate Leclerc. The positions were decided on the penultimate lap when Leclerc – younger brother of Scuderia Ferrari F1 driver Charles – pulled off a stunning move around the outside of Turn 3.
Pourchaire qualified P5, but unfortunately stalled at the start. The reigning French F4 Junior Champion recovered strongly however, to climb back up to P12.
Three of the four Sauber Junior Team drivers started in the top 10 for the second race on Sunday morning, and it was 15-year-old Pourchaire that emerged from the battle at the head of the field to claim his maiden victory in the series. Leclerc, in P3, made it two Sauber Junior Team drivers on the podium.
Ghiretti and Stanek's races were both blighted by punctures. The Czech driver finished P21, while Ghiretti's race ended after heavy contact at Turn 1.
Sunday's final race brought more podium success. Pourchaire and Leclerc fought hard for the final place on the podium – a battle that ultimately went Pourchaire's way. Leclerc claimed P4, while Stanek completed his weekend in P7.
Ghiretti however was one of the stars of the show, battling back from a starting position of P24 on the grid to an astounding P6 at the end of the 17-lap race.
With two rounds complete, Pourchaire jointly leads the ADAC F4 drivers' standings, with Leclerc third, Staněk fourth and Ghiretti sixth. Sauber Junior Team by US Racing – CHRS also tops the teams' standings, while Staněk also heads the Rookie series.
Antonin Charouz, Charouz Racing System owner, said: "It has definitely been an eventful weekend for our Sauber Junior Team programme drivers. Another win and three further podiums means we have continued our excellent start to the season and we're thrilled to be leading all of the championships"
Roman Staněk said: "The first race was quite okay apart from the start and the first corner, as I dropped a couple of places. Unfortunately, I then got a puncture in the next race, but I went from P21 to P7 in Race Three and I really enjoyed it. I was having fun."
Théo Pourchaire said: "It was a good weekend. I stalled at the start of Race One, but I made a comeback from last to P12. It was really good to get my first win of the year in race two, and all the battling was really hard but fair. With the safety cars too, I needed to stay focused. It was really cool, but really difficult."
Alessandro Ghiretti said: "I feel I managed my tyres better than I did in the first round and that helped me to finish P2 in the first race. Because of problems in qualifying, I started almost last for the second and third races. But it wasn't too difficult overtaking, I had the speed, and it felt like a big comeback to pass 18 cars in Race Three!"
Arthur Leclerc said: "Qualifying was not bad – although I made a mistake in the last two corners. It was a good recovery drive then to P6, and I was even better in Race Two to get a podium. Race Three was difficult because I made contact in the first few laps and got damage. I was in a defending position after that. But I'm happy to be P3 in the championship."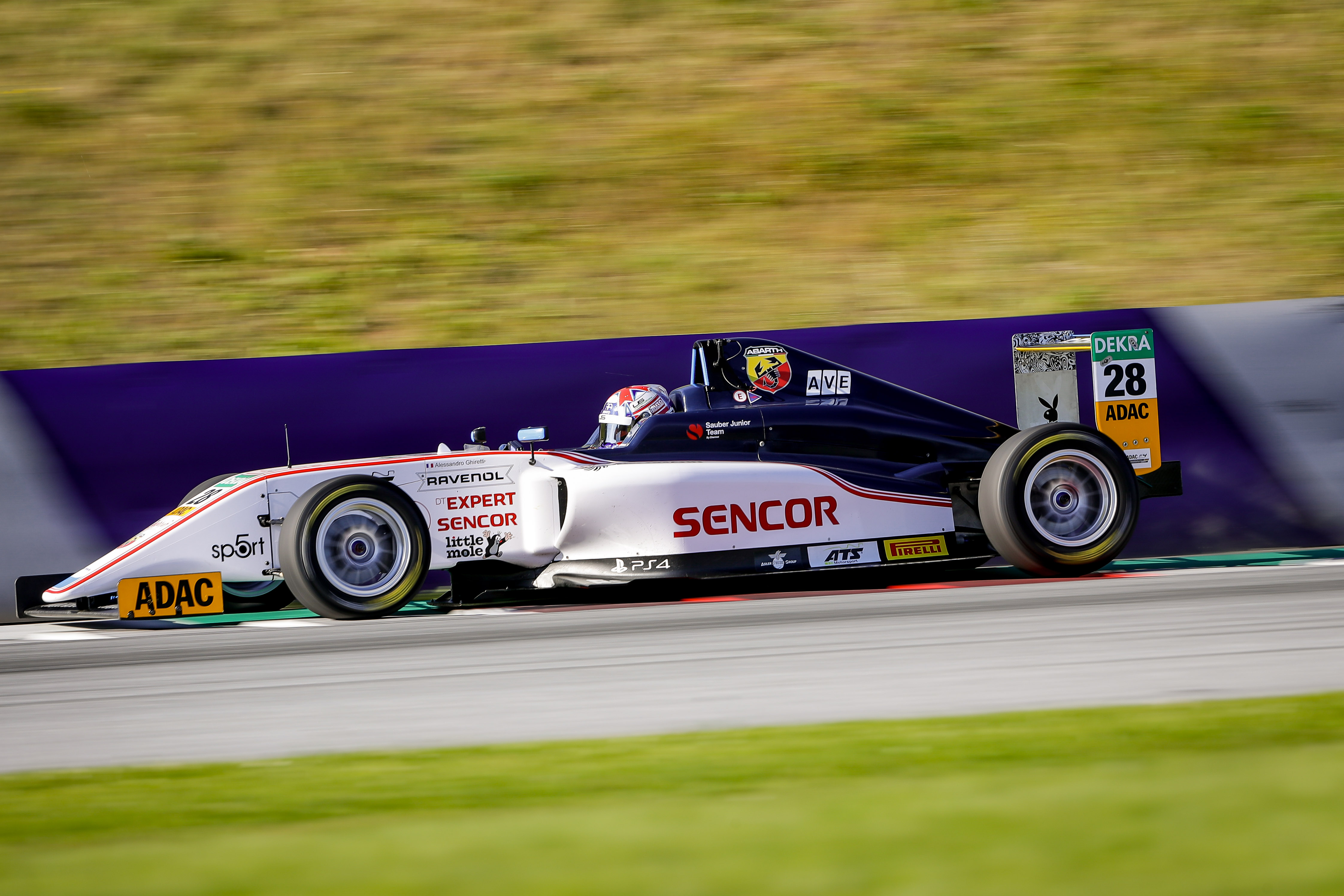 " I had the speed, and it felt like a big comeback to pass 18 cars in Race Three!"
---
Alessandro Ghiretti