Sauber Junior F4 drivers triumph at the Nurburgring
---
17 August 2019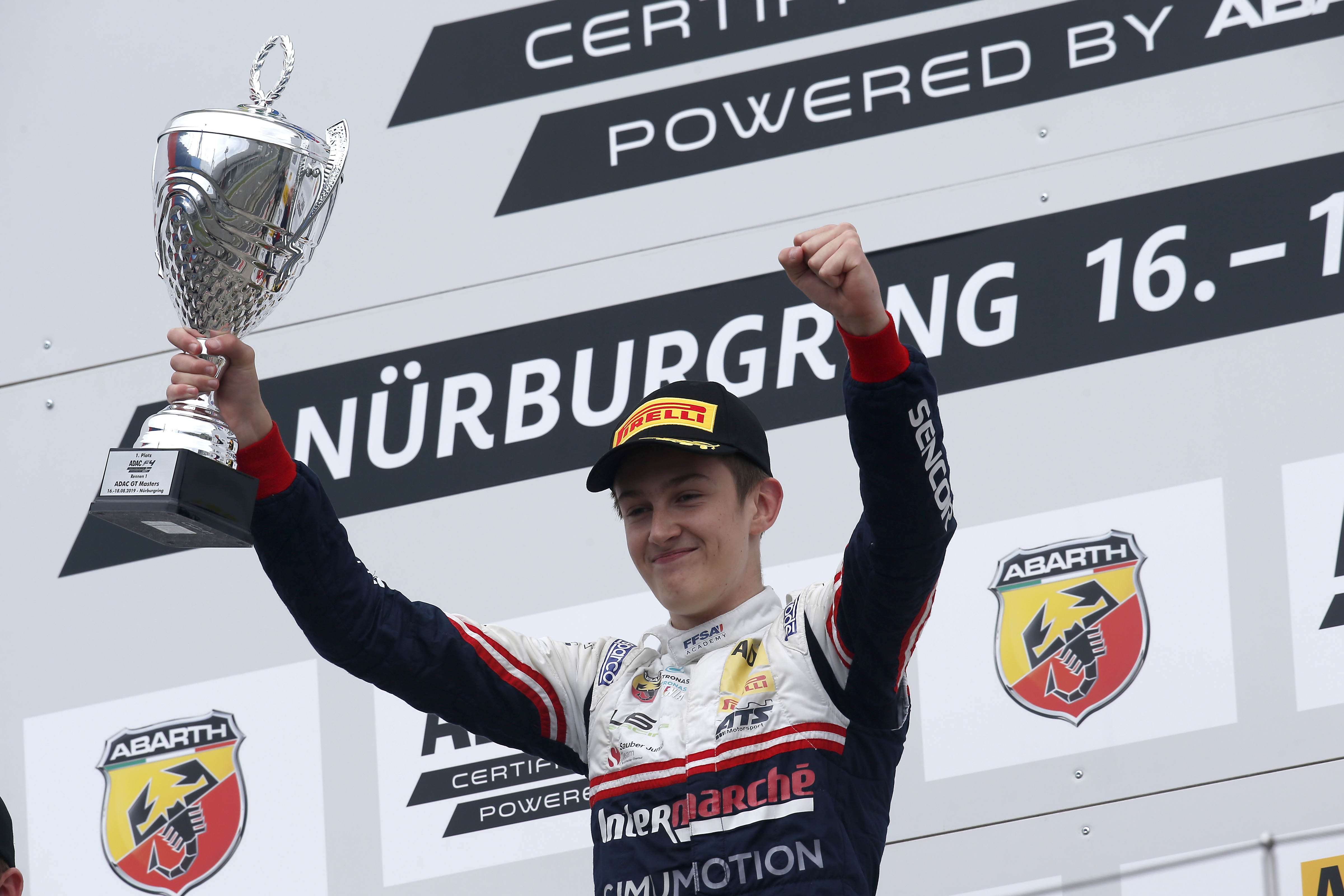 "I'm so happy with this victory - and for the championship it is amazing!"
---
Theo Pourchaire
The Sauber Junior Team's F4 drivers claimed a fourth victory in the 2019 ADAC Formula 4 Championship on Saturday, with a dominant 1 – 2 finish for Théo Pourchaire and Roman Staněk at the opening race of the weekend at the Nurburgring.
More points for team-mates Alessandro Ghiretti and Arthur Leclerc meant the quartet of development drivers registered their second strongest group performance of the season so far.
The fifth of seven rounds took them to the former German Grand Prix venue, just one week after the most recent event across the border at Zandvoort.
Racing under the 'US Racing-CHRS' banner, which reflects Charouz Racing's alignment with reigning ADAC F4 champions US Racing, all four drivers secured strong grid spots during Friday's qualifying session, with Pourchaire P2, Staněk P3, Ghiretti P6 and Leclerc P5 – before a penalty incurred at the last round dropped him to P10.
They all avoided trouble at the start of Saturday's 16-lap race and moved up a position when early leader Dennis Hauger stopped with a mechanical problem.
Pourchaire captured P1 and never looked back as he claimed a victory that boosted his sizeable advantage in the Drivers' Championship.
Staněk followed home in P2 to take his third podium finish, cementing his status as lead rookie, while Ghiretti battled to P4 and Leclerc took the chequered flag in P10.
The result of Race 1 leaves Sauber Junior Team drivers in the top three positions in the Drivers' Championship, with Pourchaire on 163 points, Leclerc on 111 and Staněk on 100. Ghiretti is close behind with 98 points.
Two more races will be held at the Nurburgring on Sunday, with Pourchaire set to start from pole position, Ghiretti from P3, Staněk P4 and Leclerc P5.
The outcome of Race 2, scheduled for 0950hrs, will determine the grid for Race 3 at 1700hrs.
Antonin Charouz, Charouz Racing System owner said: "After the podium-winning form at Zandvoort, it's good to see our drivers keeping the momentum going here at the Nurburgring. Our first 1-2 result of the season is a strong way to start the weekend and I hope we can continue this form in Sunday's races."
Theo Pourchaire said: "I'm so happy with this victory and for the championship it is amazing. It's very good, I'm proud of the whole team, a big thanks to them. It was a long race with two Safety Cars and the pressure of Roman behind me, so I'm happy that we were able to get this win."
Roman Staněk said: "The car felt really good but it was difficult race, as we had a bit of rain before and so there was a lot of sliding. It feels good to be back on the podium because for a few rounds we didn't manage to get there, so I'm happy, and I hope we can continue like this until the end of the season."
Alessandro Ghiretti said: "I started P5 and I did a really good start, but at Turn 1 someone braked early and I had to as well – that meant the guy behind could overtake, nothing I could do. I lost one position and spent most of the race trying to get past. He had really good straight-line speed but at the end I was able to overtake for P4."
Arthur Leclerc said: "It was a difficult race for me, as it was hard to overtake. I am struggling a bit with the car and we need to analyse it and come better tomorrow. The grid penalty…I did a mistake, I have to pay for it, and it's like this. We started P10, finished P10, we had just one point, which is a bit of a shame but tomorrow will be easier starting from P5."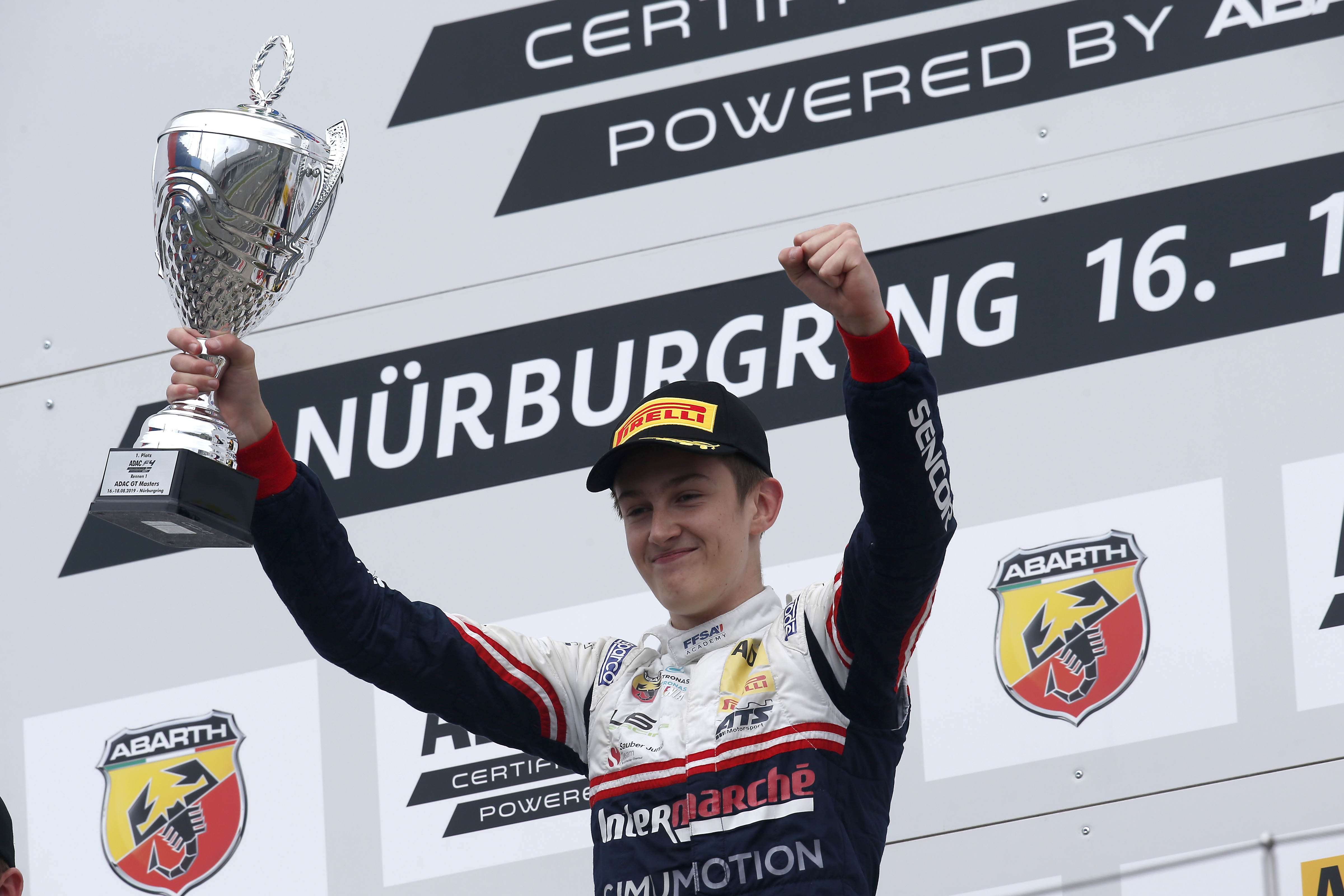 "I'm so happy with this victory - and for the championship it is amazing!"
---
Theo Pourchaire