Podium rewards for Sauber Junior Team at Hockenheim
---
15 September 2019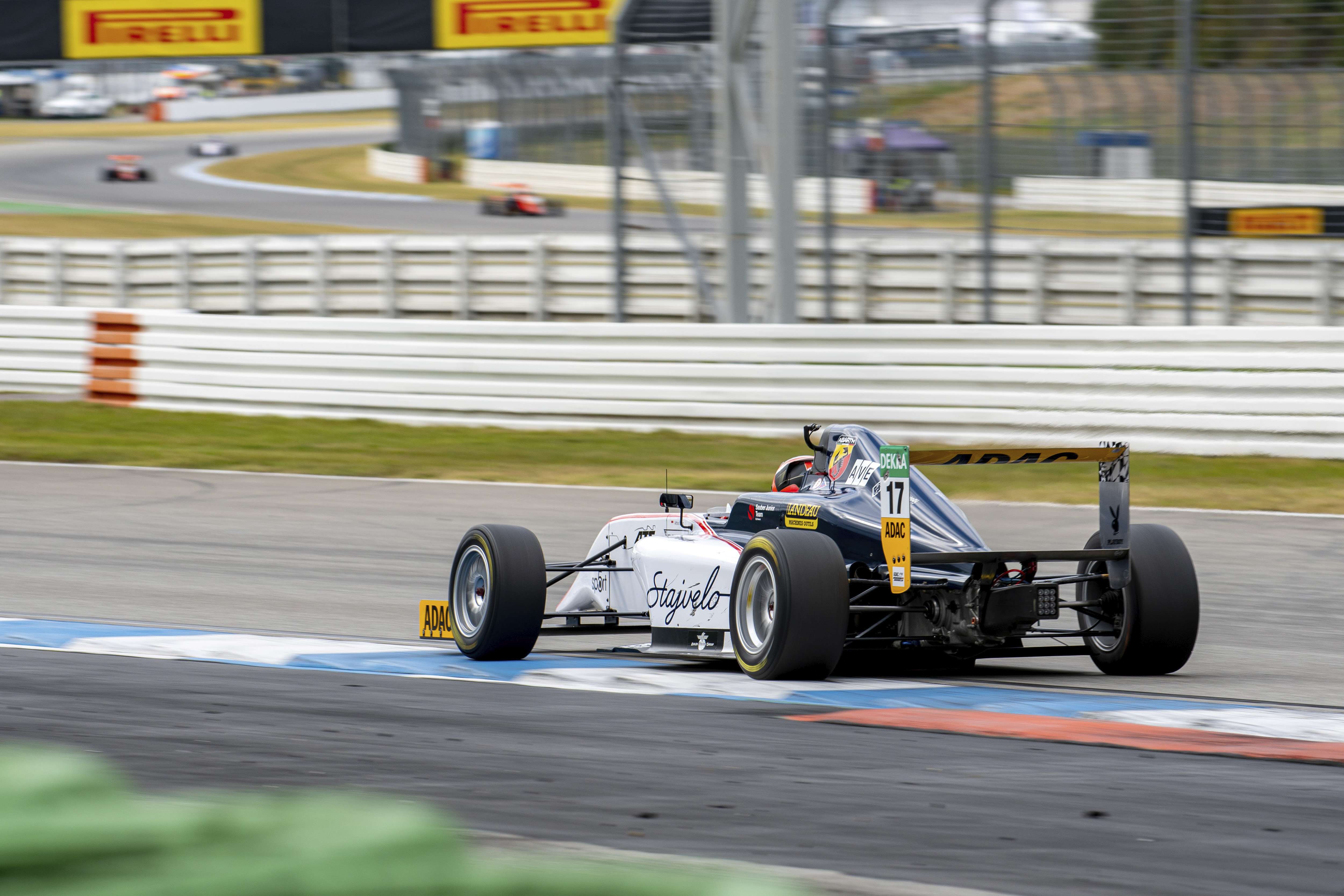 "I'm happy because we showed to everyone that we had the pace."
---
Arthur Leclerc
The Sauber Junior Team claimed a podium finish in each race during an eventful penultimate round of the ADAC Formula 4 Championship at Hockenheim this weekend.
The development programme's quartet of drivers, competing as part of the 'US Racing-CHRS' squad in F4, arrived at the German Grand Prix venue buoyed by their performance at the previous Nürburgring round, where they took a hat-trick of victories and scored other strong results.
But Théo Pourchaire, Arthur Leclerc, Roman Staněk and Alessandro Ghiretti, all had a hectic weekend at Hockenheim.
Saturday's Race 1 was led away by pole-sitter Théo, but the Frenchman's charge ended when an unfortunate clash with Arthur caused terminal damage to his car. Arthur picked up silverware for his P2, while rookie Roman drove to P8. Alessandro's race was sadly ended when he received heavy contact on the opening lap.
Arthur returned to the podium during Race 2 on Sunday by collecting P3, while Roman took P10. Théo unfortunately dropped to the back of the pack after his car failed to get away from the start line, but he demonstrated strong pace by setting the fastest lap on his way to P12. Alessandro was in points contention when he was spun by a rival at the hairpin, demoting him to P14.
Czech ace Roman capped the weekend's action by pushing his way forward from P10 on the grid to P2 at the chequered flag in Race 3, while Théo also made up substantial ground, rising from the back of the pack to P6, having recovered from being spun around by a rival at Turn 1.
Alessandro suffered a front wing failure but remained resolute as he clawed his way to P8 after stopping for repairs. Arthur's race ended with a suspected wheel failure close to the end.
Théo leaves Hockenheim still P1 in the Drivers' Championship, on 197 points, with Arthur P3 (169 points), Roman P4 (153 points) and Alessandro P6 (124 points).
The final round of the season will take place at the Sachsenring from 27-29 September.
Antonin Charouz, Charouz Racing System owner, said: "Although we're pleased to get onto the podium in each race, this weekend will be remembered as one of the toughest of the season. All our drivers have had to overcome difficulties and fight hard to maximise their results. But it's events like this that are key to a driver's development and all our guys will have learned something valuable this weekend. Now we focus very hard for the final round and making sure we end our season successfully."
Théo Pourchaire said: "It wasn't the best weekend. I managed to get pole position for Race 1, and P2 on the grid for Race 2, but unfortunately my team-mate pushed me and I had to retire the car with damage. The stall in Race 2 was my mistake. I had no chance as I got spun in the final race but coming from last to P6 was amazing, with a lot of overtakes. I'm still leading the championship, only by a point, but it's okay. I will keep pushing."
Arthur Leclerc said: "It was a positive weekend overall. If we look at the first two races the car was flying, the balance was amazing, and everyone in the team did a really good job. I'm happy because we showed to everyone that we had the pace. It's a shame to retire from the final race but these things happen. Now we move on and focus for Sachsenring."
Roman Staněk said: "It's mixed feelings as we didn't really have the pace in qualifying and in Race 2, but Race 1 was good and we finished with a podium in the last race. I learned a lot this weekend. I didn't start from the top positions so it was a good experience to go from a bit lower down the grid. It was nice to be on the podium at the end. Coming from P10 to P2 showed the good pace that we had."
Alessandro Ghiretti said: "This was probably one of the toughest weekends of my whole career. In quali we didn't have the speed but in the races we did. Unfortunately, I got hit in the first two races and then someone made a mistake in Race 3 at the hairpin and my front wing got damaged. I had to go to the pits for repairs. I went from P15 to P8 in the last three laps of the race which was good but I'm still disappointed with the weekend overall."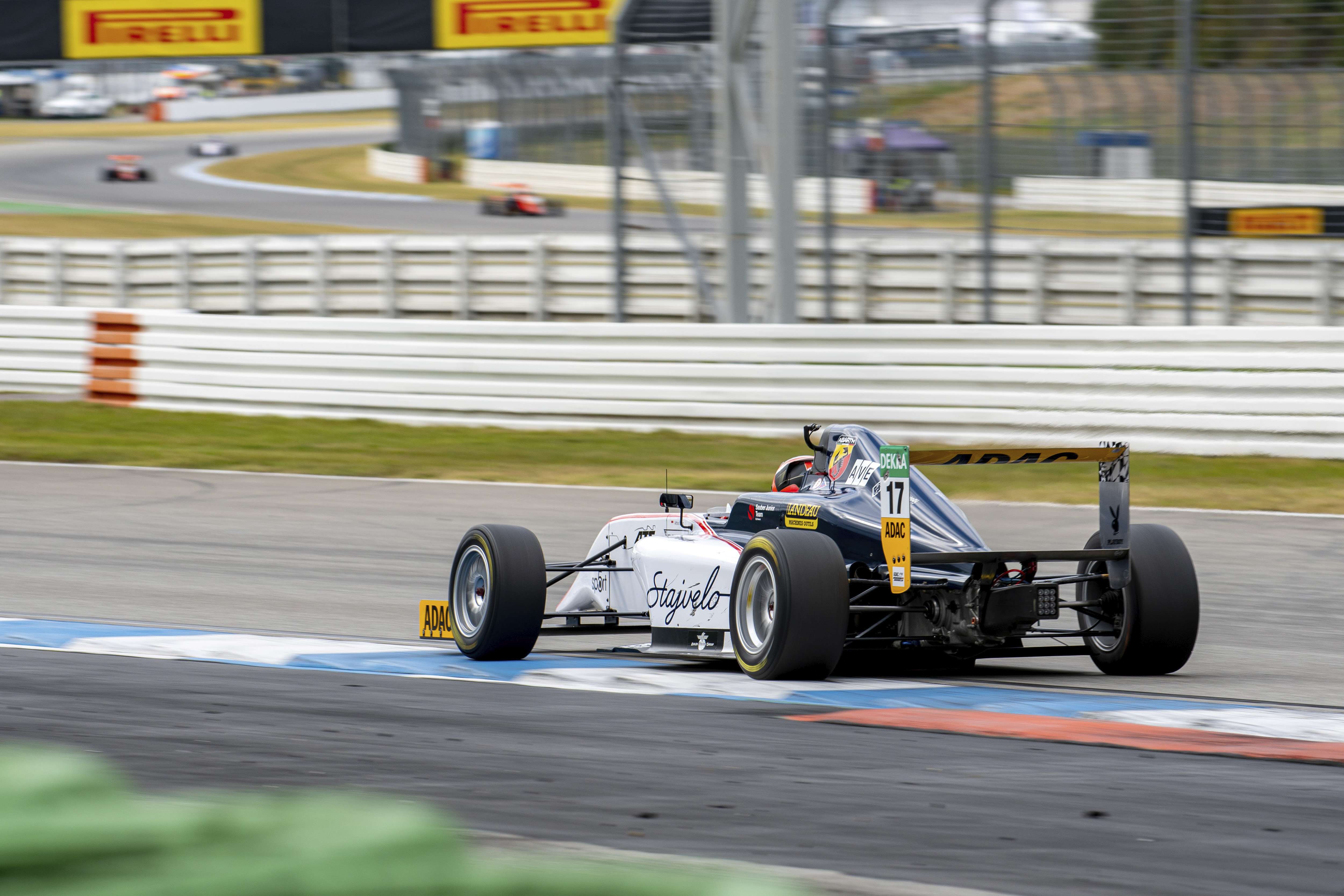 "I'm happy because we showed to everyone that we had the pace."
---
Arthur Leclerc