Dominant start for Sauber Junior Team drivers in ADAC F4 opener
---
28 April 2019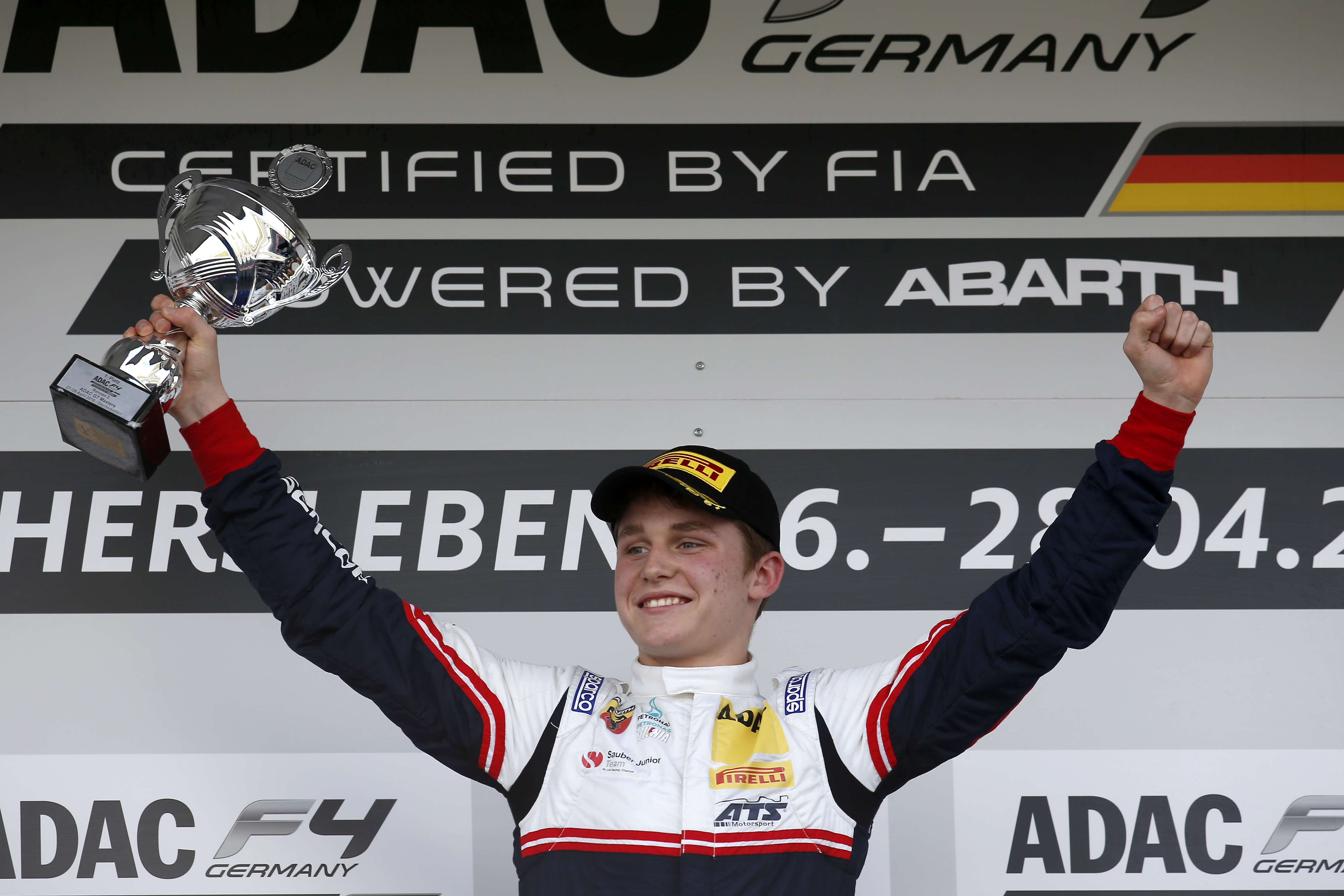 "I'm very happy with the start I've made and I'll keep pushing."
---
The Sauber Junior Team programme got its 2019 ADAC Formula 4 campaign off to a flying start in Germany this weekend, claiming one win and a further four podiums at the Oschersleben circuit.
The first round of the series marked the F4 track debut for the driver development squad that has been put together as part of a collaboration between Sauber Motorsport, the organisation that runs Alfa Romeo Racing in F1, and Charouz Racing System.
Drivers Alessandro Ghiretti, Arthur Leclerc, Théo Pourchaire and Roman Staněk all found success as they took the wheel of their 'Sauber Junior Team by US Racing – CHRS' cars for the first time at the 3.67km track.
Each of them made it onto the podium across the three races, and it was Czech karting champion Staněk who scored the most points. The 15-year-old now leads the overall drivers' and rookie standings while the 'US Racing – CHRS' entry also has a clear lead in the teams' standings after the first round.
Staněk started the weekend by earning two P3 grid starts, the highlight of an impressive qualifying programme for the team. Indeed, three of its four drivers were inside the top-ten places.
The Czech driver maintained his remarkable pace in the first race by securing a P2 finish, the first podium for the Sauber Junior Team programme in F4. Pourchaire impressed as he took P5, while Ghiretti finished in P10.
Leclerc, the younger brother of Scuderia Ferrari F1 driver Charles, just missed out on points in the first race, but utilised an inspired team strategy in race two to switch to slicks on a drying track.
It was a gamble that almost earned the French F4 graduate a stunning win, but he had to settle for P3 at the chequered flag, just behind team-mate Pourchaire. Ghiretti used the same strategy to finish P7, overtaking eight drivers on the final lap of the exciting race. Staněk finished in P8.
The reversed-grid third race gave the Sauber Junior Team a front row lockout, with Staněk leading from the front. Despite his lack of single-seater experience, he dominated the race to win by more than 10 seconds. Ghiretti's assured drive guaranteed his first podium in P3, while Leclerc and Pourchaire also scored points as they rounded off a successful first weekend of ADAC F4 racing.
Antonin Charouz, Charouz Racing System owner, said: "Debut race weekend's don't get much better than this and that's testament to the hard work of our Sauber Junior Team programme drivers and the whole team. To lead all of the championships and have all of our drivers on the podium is fantastic. It gives us a lot of confidence for the season."
Roman Staněk said: "After free practice, I knew I would be quick in qualifying. I was very clean in all of my races. It's only one weekend so I'm not going to say: 'I've won here, so I'm going to win all the time'. I'm very happy with the start I've made and I'll keep pushing."
Théo Pourchaire said: "In qualifying I was P4, and in race one I lost just one place. I was driving with wet tyres for all of race two, so I started P4 and finished P2. I was leading the race at one point, but finished P2. It was a good weekend, but it could have gone a bit better."
Alessandro Ghiretti said: "In race one I pushed too much because of my inexperience, which killed my tyres. Race two was raining, and I pitted [for slicks] a lap too late. When I came to the last lap I was last, but in one lap I got up to P7. In the final race, I had the same tyres that I used in race one, so I had to save them to the maximum to finish P3."
Arthur Leclerc said: "We had the pace in race two with the wet conditions. I pitted for slick tyres, and the strategy paid off as I was really strong on the slicks. Without some mistakes on my out lap, I'm sure victory would have been possible. I learned a lot, especially about the tyres."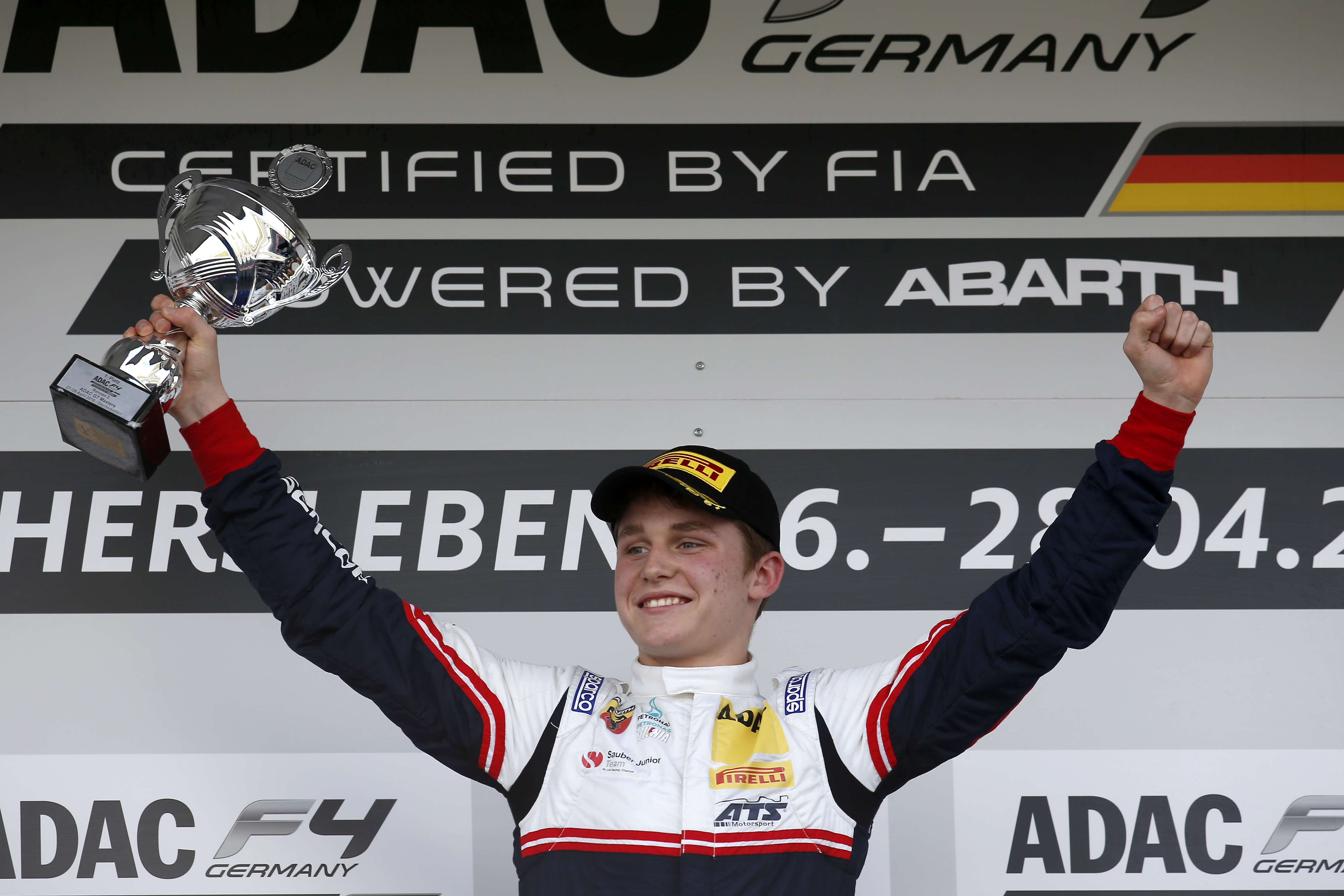 "I'm very happy with the start I've made and I'll keep pushing."
---